Safely socialize your dog with other dogs while discovering new places for them to enjoy

Connect with dog owners
with the same vibe

See other dogs' friendliness and energy levels, and vaccine status before meeting up

Find local restaurants, beaches, and more that allow and offer dog amenities
Track your dog's fitness
Keep your dog in the best shape possible mentally and physically by tracking their fitness to improve their health.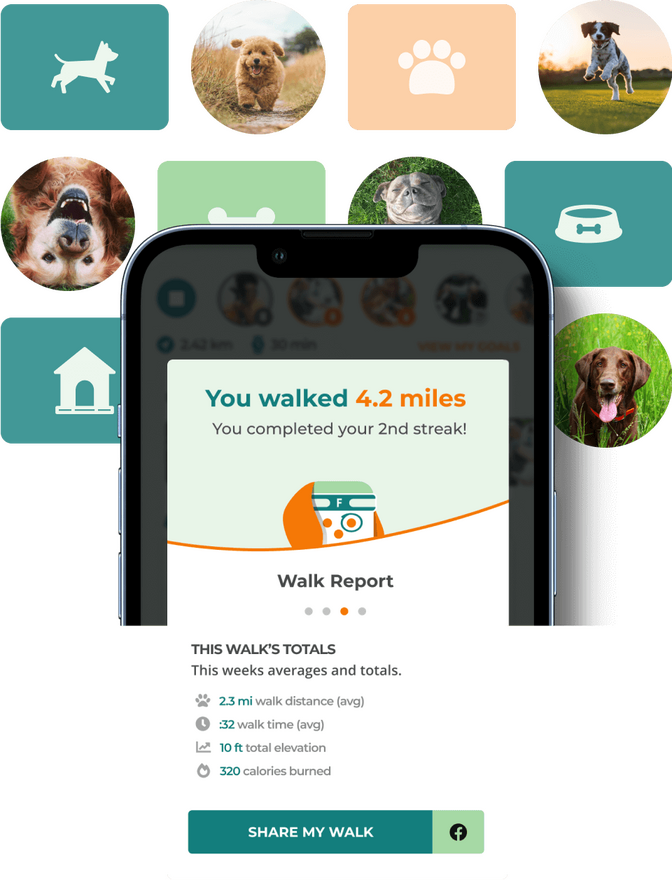 "Furfriends has become my go-to app to meet other dog lovers. It motivates Pip and me to stay healthy by going on walks. It's easy and fun to use! I love it! Definitely, a must-have
for dog owners!"
Jessica & Pip (beta tester)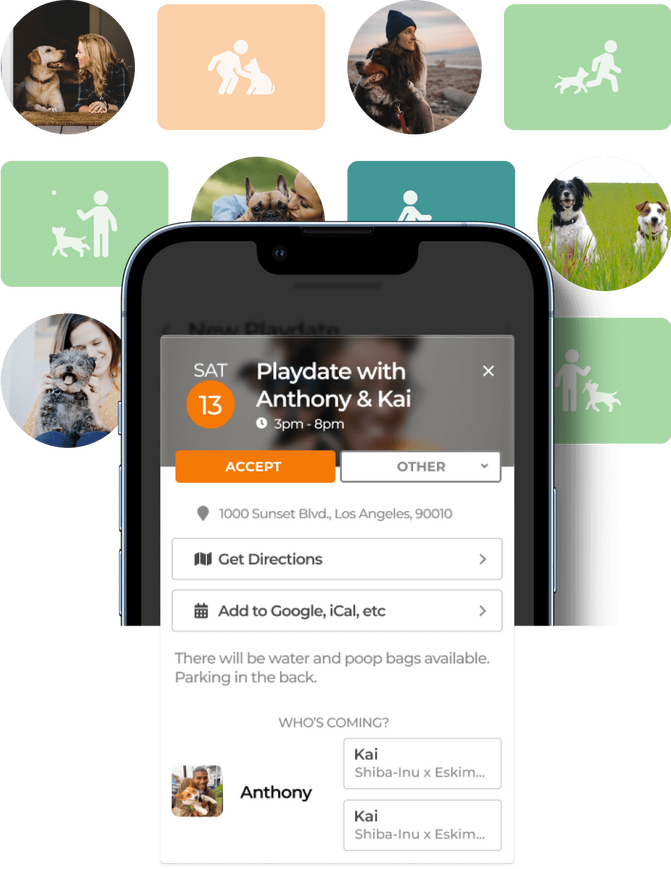 Join playdates
Socialize your dog safely and help them develop good behavior skills around other friendly dogs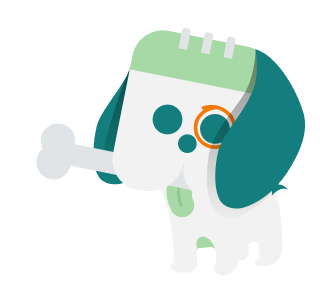 Take your dog walks to a whole new level with Furfriends!
Schedule play dates, track your dog's walks, and discover dog-friendly venues near you!

Fun and safe playdates
Get full access to our Furfriends community and easily find a well-matched furpal for your next playdate.

Dog-friendly locations
Discover new places to bring your dog. Find out if restaurants have patio seating or allow dogs inside.

Personal Calendog
Built with your dog in mind. Access your calendar to discover fantastic events in your part of town!

Motivational
Earn extra credit for going on walks. Track how many miles, elevation, and calories burned your dog has achieved.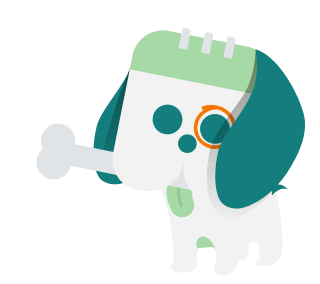 Thanks!
We'll get back to you soon. In the meantime, discover more about the Furfriends community
Privacy Policy
Last updated July 05, 2023
This privacy notice for Furfriends, Inc ("Company," "we," "us," or "our"), describes how and why we might collect, store, use, and/or share ("process") your information when you use our services ("Services"), such as when you:
Download and use our mobile application (Furfriends, Inc. ), or any other application of ours that links to this privacy notice
Engage with us in other related ways, including any sales, marketing, or events
Questions or concerns? Reading this privacy notice will help you understand your privacy rights and choices. If you do not agree with our policies and practices, please do not use our Services. If you still have any questions or concerns, please contact us at contact@joinfurfriends.com.
SUMMARY OF KEY POINTS
This summary provides key points from our privacy notice, but you can find out more details about any of these topics by clicking the link following each key point or by using our table of contents below to find the section you are looking for.
What personal information do we process? When you visit, use, or navigate our Services, we may process personal information depending on how you interact with Furfriends, Inc and the Services, the choices you make, and the products and features you use. Learn more about personal information you disclose to us.
Do we process any sensitive personal information? We may process sensitive personal information when necessary with your consent or as otherwise permitted by applicable law. Learn more about sensitive information we process.
Do we receive any information from third parties? We may receive information from public databases, marketing partners, social media platforms, and other outside sources. Learn more about information collected from other sources.
How do we process your information? We process your information to provide, improve, and administer our Services, communicate with you, for security and fraud prevention, and to comply with law. We may also process your information for other purposes with your consent. We process your information only when we have a valid legal reason to do so. Learn more about how we process your information.
In what situations and with which parties do we share personal information? We may share information in specific situations and with specific third parties. Learn more about when and with whom we share your personal information.
How do we keep your information safe? We have organizational and technical processes and procedures in place to protect your personal information. However, no electronic transmission over the internet or information storage technology can be guaranteed to be 100% secure, so we cannot promise or guarantee that hackers, cybercriminals, or other unauthorized third parties will not be able to defeat our security and improperly collect, access, steal, or modify your information. Learn more about how we keep your information safe.
What are your rights? Depending on where you are located geographically, the applicable privacy law may mean you have certain rights regarding your personal information. Learn more about your privacy rights.
How do you exercise your rights? The easiest way to exercise your rights is by submitting a data subject access request, or by contacting us. We will consider and act upon any request in accordance with applicable data protection laws.
Want to learn more about what Furfriends, Inc does with any information we collect? Review the privacy notice in full.
TABLE OF CONTENTS
1. WHAT INFORMATION DO WE COLLECT? 2. HOW DO WE PROCESS YOUR INFORMATION? 3. WHEN AND WITH WHOM DO WE SHARE YOUR PERSONAL INFORMATION? 4. DO WE USE COOKIES AND OTHER TRACKING TECHNOLOGIES? 5. HOW DO WE HANDLE YOUR SOCIAL LOGINS? 6. HOW LONG DO WE KEEP YOUR INFORMATION? 7. HOW DO WE KEEP YOUR INFORMATION SAFE? 8. DO WE COLLECT INFORMATION FROM MINORS? 9. WHAT ARE YOUR PRIVACY RIGHTS? 10. CONTROLS FOR DO-NOT-TRACK FEATURES 11. DO CALIFORNIA RESIDENTS HAVE SPECIFIC PRIVACY RIGHTS? 12. DO VIRGINIA RESIDENTS HAVE SPECIFIC PRIVACY RIGHTS? 13. DO WE MAKE UPDATES TO THIS NOTICE? 14. HOW CAN YOU CONTACT US ABOUT THIS NOTICE? 15. HOW CAN YOU REVIEW, UPDATE, OR DELETE THE DATA WE COLLECT FROM YOU?
1. WHAT INFORMATION DO WE COLLECT?
Personal information you disclose to us
In Short:We collect personal information that you provide to us.
We collect personal information that you voluntarily provide to us when you register on the Services, express an interest in obtaining information about us or our products and Services, when you participate in activities on the Services, or otherwise when you contact us.
Personal Information Provided by You. The personal information that we collect depends on the context of your interactions with us and the Services, the choices you make, and the products and features you use. The personal information we collect may include, but is not limited to, the following:
names
email addresses
usernames
passwords
phone numbers
Sensitive Information. When necessary, with your consent or as otherwise permitted by applicable law, we process the following categories of sensitive information:
health data
Social Media Login Data.We may provide you with the option to register with us using your existing social media account details, like your Facebook, Twitter, or other social media account. If you choose to register in this way, we will collect the information described in the section called "HOW DO WE HANDLE YOUR SOCIAL LOGINS?" below.
Application Data. If you use our application(s), we also may collect the following information if you choose to provide us with access or permission:
Geolocation Information. We may request access or permission to track location-based information from your mobile device, either continuously or while you are using our mobile application(s), to provide certain location-based services. If you wish
to change our access or permissions, you may do so in your device's settings.
Mobile Device Access. We may request access or permission to certain features from your mobile device, including your mobile device's camera, contacts, and other features. If you wish to change our access or permissions, you may do so in your
device's settings.
Mobile Device Data. We automatically collect device information (such as your mobile device ID, model, and manufacturer), operating system, version information and system configuration information, device and application identification numbers,
browser type and version, hardware model Internet service provider and/or mobile carrier, and Internet Protocol (IP) address (or proxy server). If you are using our application(s), we may also collect information about the phone network associated
with your mobile device, your mobile device's operating system or platform, the type of mobile device you use, your mobile device's unique device ID, and information about the features of our application(s) you accessed.
Push Notifications. We may request to send you push notifications regarding your account or certain features of the application(s). If you wish to opt out from receiving these types of communications, you may turn them off in your device's settings.
This information is primarily needed to maintain the security and operation of our application(s), for troubleshooting, and for our internal analytics and reporting purposes.
All personal information that you provide to us must be true, complete, and accurate, and you must notify us of any changes to such personal information.
Information automatically collected
In Short:Some information — such as your Internet Protocol (IP) address and/or browser and device characteristics — is collected automatically when you visit our Services.
We automatically collect certain information when you visit, use, or navigate the Services. This information does not reveal your specific identity (like your name or contact information) but may include device and usage information, such as your IP address, browser and device characteristics, operating system, language preferences, referring URLs, device name, country, location, information about how and when you use our Services, and other technical information. This information is primarily needed to maintain the security and operation of our Services, and for our internal analytics and reporting purposes.
Like many businesses, we also collect information through cookies and similar technologies.
The information we collect includes:
Log and Usage Data. Log and usage data is service-related, diagnostic, usage, and performance information our servers automatically collect when you access or use our Services and which we record in log files. Depending on how you interact
with us, this log data may include your IP address, device information, browser type, and settings and information about your activity in the Services (such as the date/time stamps associated with your usage, pages and files viewed, searches, and
other actions you take such as which features you use), device event information (such as system activity, error reports (sometimes called "crash dumps"), and hardware settings).
Device Data. We collect device data such as information about your computer, phone, tablet, or other device you use to access the Services. Depending on the device used, this device data may include information such as your IP address (or proxy
server), device and application identification numbers, location, browser type, hardware model, Internet service provider and/or mobile carrier, operating system, and system configuration information.
Location Data. We collect location data such as information about your device's location, which can be either precise or imprecise. How much information we collect depends on the type and settings of the device you use to access the Services. For
example, we may use GPS and other technologies to collect geolocation data that tells us your current location (based on your IP address). You can opt out of allowing us to collect this information either by refusing access to the information or by
disabling your Location setting on your device. However, if you choose to opt out, you may not be able to use certain aspects of the Services.
Information collected from other sources
In Short:We may collect limited data from public databases, marketing partners, social media platforms, and other outside sources.
In order to enhance our ability to provide relevant marketing, offers, and services to you and update our records, we may obtain information about you from other sources, such as public databases, joint marketing partners, affiliate programs, data providers, social media platforms, and from other third parties. This information includes mailing addresses, job titles, email addresses, phone numbers, intent data (or user behavior data), Internet Protocol (IP) addresses, social media profiles, social media URLs, and custom profiles, for purposes of targeted advertising and event promotion. If you interact with us on a social media platform using your social media account (e.g. , Facebook or Twitter), we receive personal information about you such as your name, email address, and gender. Any personal information that we collect from your social media account depends on your social media account's privacy settings.
2. HOW DO WE PROCESS YOUR INFORMATION?
In Short:We process your information to provide, improve, and administer our Services, communicate with you, for security and fraud prevention, and to comply with law. We may also process your information for other purposes with your consent.
We process your personal information for a variety of reasons, depending on how you interact with our Services, including:
To facilitate account creation and authentication and otherwise manage user accounts.We may process your information so you can create and log in to your account, as well as keep your account in working order.
To deliver and facilitate delivery of services to the user.We may process your information to provide you with the requested service.
To enable user-to-user communications.We may process your information if you choose to use any of our offerings that allow for communication with another user.
To send you marketing and promotional communications.We may process the personal information you send to us for our marketing purposes, if this is in accordance with your marketing preferences. You can opt out of our marketing emails at
any time. For more information, see "WHAT ARE YOUR PRIVACY RIGHTS?" below.
To deliver targeted advertising to you.We may process your information to develop and display personalized content and advertising tailored to your interests, location, and more.
To post testimonials. We post testimonials on our Services that may contain personal information.
To protect our Services. We may process your information as part of our efforts to keep our Services safe and secure, including fraud monitoring and prevention.
To administer prize draws and competitions. We may process your information to administer prize draws and competitions.
To evaluate and improve our Services, products, marketing, and your experience. We may process your information when we believe it is necessary to identify usage trends, determine the effectiveness of our promotional campaigns, and to
evaluate and improve our Services, products, marketing, and your experience.
To identify usage trends. We may process information about how you use our Services to better understand how they are being used so we can improve them.
To determine the effectiveness of our marketing and promotional campaigns. We may process your information to better understand how to provide marketing and promotional campaigns that are most relevant to you.
To comply with our legal obligations. We may process your information to comply with our legal obligations, respond to legal requests, and exercise, establish, or defend our legal rights.
3. WHEN AND WITH WHOM DO WE SHARE YOUR PERSONAL INFORMATION?
In Short:We may share information in specific situations described in this section and/or with the following third parties.
Vendors, Consultants, and Other Third-Party Service Providers. We may share your data with third-party vendors, service providers, contractors, or agents ("third parties") who perform services for us or on our behalf and require access to such information to do that work. We have contracts in place with our third parties, which are designed to help safeguard your personal information. This means that they cannot do anything with your personal information unless we have instructed them to do it. They will also not share your personal information with any organization apart from us. They also commit to protect the data they hold on our behalf and to retain it for the period we instruct. The third parties we may share personal information with are as follows:
Advertising, Direct Marketing, and Lead Generation
Google AdSense
Allow Users to Connect to Their Third-Party Accounts
Facebook account and Google account
Cloud Computing Services
Amazon Web Services (AWS)
Communicate and Chat with Users
Facebook Customer Chat
Content Optimization
Google Site Search
Data Backup and Security
Amazon Glacier
Functionality and Infrastructure Optimization
Cloud Functions for Firebase
Retargeting Platforms
Facebook Remarketing and Google Analytics Remarketing
Social Media Sharing and Advertising
Facebook advertising, Reddit plugins and Instagram advertising
User Account Registration and Authentication
Facebook Login and Google Sign-In
User Commenting and Forums
Facebook Comments
Web and Mobile Analytics
Google Analytics and Google Analytics for Firebase
Website Hosting
WordPress.com
Website Performance Monitoring
Firebase Performance Monitoring
Website Testing
TestFlight
We also may need to share your personal information in the following situations:
Business Transfers. We may share or transfer your information in connection with, or during negotiations of, any merger, sale of company assets, financing, or acquisition of all or a portion of our business to another company.
When we use Google Maps Platform APIs. We may share your information with certain Google Maps Platform APIs (e.g., Google Maps API, Places API). We obtain and store on your device ("cache") your location. You may revoke your consent
anytime
TERMS AND CONDITIONS
Last updated July 10, 2023
AGREEMENT TO OUR LEGAL TERMS
We are Furfriends, Inc ("Company," "we," "us," "our"), a company registered in Washington, United States at 600 1st Ave, Ste 102 PMB 2034, Seattle, WA 98104.
We operate the mobile application Furfriends (the "App"), as well as any other related products and services that refer or link to these legal terms (the "Legal Terms") (collectively, the "Services").
We provide a geolocation based social networking platform for pet owners to safely socialize their animals, and discover the world around them.
You can contact us by email at contact@joinfurfriends.com or by mail to 600 1st Ave, Ste 102 PMB 2034, Seattle, WA 98104, United States.
These Legal Terms constitute a legally binding agreement made between you, whether personally or on behalf of an entity ("you"), and Furfriends, Inc, concerning your access to and use of the Services. You agree that by accessing the Services, you have read, understood, and agreed to be bound by all of these Legal Terms. IF YOU DO NOT AGREE WITH ALL OF THESE LEGAL TERMS, THEN YOU ARE EXPRESSLY PROHIBITED FROM USING THE SERVICES AND YOU MUST DISCONTINUE USE IMMEDIATELY.
We will provide you with prior notice of any scheduled changes to the Services you are using. The modified Legal Terms will become effective upon posting or notifying you by no-reply@joinfurfriends.com, as stated in the email message. By continuing to use the Services after the effective date of any changes, you agree to be bound by the modified terms.
The Services are intended for users who are at least 18 years old. Persons under the age of 18 are not permitted to use or register for the Services.
We recommend that you print a copy of these Legal Terms for your records.
TABLE OF CONTENTS
1. OUR SERVICES 2. INTELLECTUAL PROPERTY RIGHTS 3. USER REPRESENTATIONS 4. USER REGISTRATION 5. PURCHASES AND PAYMENT 6. FREE TRIAL 7. CANCELLATION 8. SOFTWARE 9. PROHIBITED ACTIVITIES 10. USER GENERATED CONTRIBUTIONS 11. CONTRIBUTION LICENSE 12. GUIDELINES FOR REVIEWS 13. MOBILE APPLICATION LICENSE 14. SOCIAL MEDIA 15. THIRD-PARTY WEBSITES AND CONTENT 16. ADVERTISERS 17. SERVICES MANAGEMENT 18. PRIVACY POLICY 19. COPYRIGHT INFRINGEMENTS 20. TERM AND TERMINATION 21. MODIFICATIONS AND INTERRUPTIONS 22. GOVERNING LAW 23. DISPUTE RESOLUTION 24. CORRECTIONS 25. DISCLAIMER 26. LIMITATIONS OF LIABILITY 27. INDEMNIFICATION 28. USER DATA 29. ELECTRONIC COMMUNICATIONS, TRANSACTIONS, AND SIGNATURES 30. CALIFORNIA USERS AND RESIDENTS 31. MISCELLANEOUS 32. CONTACT US
1. OUR SERVICES
The information provided when using the Services is not intended for distribution to or use by any person or entity in any jurisdiction or country where such distribution or use would be contrary to law or regulation or which would subject us to any registration requirement within such jurisdiction or country. Accordingly, those persons who choose to access the Services from other locations do so on their own initiative and are solely responsible for compliance with local laws, if and to the extent local laws are applicable.
The Services are not tailored to comply with industry-specific regulations (Health Insurance Portability and Accountability Act (HIPAA), Federal Information Security Management Act (FISMA), etc.), so if your interactions would be subjected to such laws, you may not use the Services. You may not use the Services in a way that would violate the Gramm-Leach-Bliley Act (GLBA).
2. INTELLECTUAL PROPERTY RIGHTS
Our intellectual property
We are the owner or the licensee of all intellectual property rights in our Services, including all source code, databases, functionality, software, website designs, audio, video, text, photographs, and graphics in the Services (collectively, the "Content"), as well as the trademarks, service marks, and logos contained therein (the "Marks").
Our Content and Marks are protected by copyright and trademark laws (and various other intellectual property rights and unfair competition laws) and treaties in the United States and around the world.
The Content and Marks are provided in or through the Services "AS IS" for your personal, non-commercial use only.
Your use of our Services
Subject to your compliance with these Legal Terms, including the "PROHIBITED ACTIVITIES" section below, we grant you a non-exclusive, non-transferable, revocable license to:
access the Services; and
download or print a copy of any portion of the Content to which you have properly gained access.
solely for your personal, non-commercial use.
Except as set out in this section or elsewhere in our Legal Terms, no part of the Services and no Content or Marks may be copied, reproduced, aggregated, republished, uploaded, posted, publicly displayed, encoded, translated, transmitted, distributed, sold, licensed, or otherwise exploited for any commercial purpose whatsoever, without our express prior written permission.
If you wish to make any use of the Services, Content, or Marks other than as set out in this section or elsewhere in our Legal Terms, please address your request to: contact@joinfurfriends.com. If we ever grant you the permission to post, reproduce, or publicly display any part of our Services or Content, you must identify us as the owners or licensors of the Services, Content, or Marks and ensure that any copyright or proprietary notice appears or is visible on posting, reproducing, or displaying our Content.
We reserve all rights not expressly granted to you in and to the Services, Content, and Marks.
Any breach of these Intellectual Property Rights will constitute a material breach of our Legal Terms and your right to use our Services will terminate immediately.
Your submissions and contributions
Please review this section and the "PROHIBITED ACTIVITIES" section carefully prior to using our Services to understand the (a) rights you give us and (b) obligations you have when you post or upload any content through the Services.
Submissions: By directly sending us any question, comment, suggestion, idea, feedback, or other information about the Services ("Submissions"), you agree to assign to us all intellectual property rights in such Submission. You agree that we shall own this Submission and be entitled to its unrestricted use and dissemination for any lawful purpose, commercial or otherwise, without acknowledgment or compensation to you.
Contributions: The Services may invite you to chat, contribute to, or participate in blogs, message boards, online forums, and other functionality during which you may create, submit, post, display, transmit, publish, distribute, or broadcast content and materials to us or through the Services, including but not limited to text, writings, video, audio, photographs, music, graphics, comments, reviews, rating suggestions, personal information, or other material ("Contributions"). Any Submission that is publicly posted shall also be treated as a Contribution.
You understand that Contributions may be viewable by other users of the Services and possibly through third-party websites.
When you post Contributions, you grant us a license (including use of your name, trademarks, and logos):By posting any Contributions, you grant us an unrestricted, unlimited, irrevocable, perpetual, non-exclusive, transferable, royalty-free, fully-paid, worldwide right, and license to: use, copy, reproduce, distribute, sell, resell, publish, broadcast, retitle, store, publicly perform, publicly display, reformat, translate, excerpt (in whole or in part), and exploit your Contributions (including, without limitation, your image, name, and voice) for any purpose, commercial, advertising, or otherwise, to prepare derivative works of, or incorporate into other works, your Contributions, and to sublicense the licenses granted in this section. Our use and distribution may occur in any media formats and through any media channels.
This license includes our use of your name, company name, and franchise name, as applicable, and any of the trademarks, service marks, trade names, logos, and personal and commercial images you provide.
You are responsible for what you post or upload: By sending us Submissions and/or posting Contributions through any part of the Services or making Contributions accessible through the Services by linking your account through the Services to any of your social networking accounts, you:
confirm that you have read and agree with our "PROHIBITED ACTIVITIES" and will not post, send, publish, upload, or transmit through the Services any Submission nor post any Contribution that is illegal, harassing, hateful, harmful, defamatory,
obscene, bullying, abusive, discriminatory, threatening to any person or group, sexually explicit, false, inaccurate, deceitful, or misleading;
to the extent permissible by applicable law, waive any and all moral rights to any such Submission and/or Contribution;
warrant that any such Submission and/or Contributions are original to you or that you have the necessary rights and licenses to submit such Submissions and/or Contributions and that you have full authority to grant us the above-mentioned rights in
relation to your Submissions and/or Contributions; and
warrant and represent that your Submissions and/or Contributions do not constitute confidential information.
You are solely responsible for your Submissions and/or Contributions and you expressly agree to reimburse us for any and all losses that we may suffer because of your breach of (a) this section, (b) any third party's intellectual property rights, or (c) applicable law.
We may remove or edit your Content: Although we have no obligation to monitor any Contributions, we shall have the right to remove or edit any Contributions at any time without notice if in our reasonable opinion we consider such Contributions harmful or in breach of these Legal Terms. If we remove or edit any such Contributions, we may also suspend or disable your account and report you to the authorities.
Copyright infringement
We respect the intellectual property rights of others. If you believe that any material available on or through the Services infringes upon any copyright you own or control, please immediately refer to the "COPYRIGHT INFRINGEMENTS" section below.
3. USER REPRESENTATIONS
By using the Services, you represent and warrant that: (1) all registration information you submit will be true, accurate, current, and complete; (2) you will maintain the accuracy of such information and promptly update such registration information as necessary; (3) you have the legal capacity and you agree to comply with these Legal Terms; (4) you are not a minor in the jurisdiction in which you reside; (5) you will not access the Services through automated or non-human means, whether through a bot, script or otherwise; (6) you will not use the Services for any illegal or unauthorized purpose; and (7) your use of the Services will not violate any applicable law or regulation.
If you provide any information that is untrue, inaccurate, not current, or incomplete, we have the right to suspend or terminate your account and refuse any and all current or future use of the Services (or any portion thereof).
4. USER REGISTRATION
You may be required to register to use the Services. You agree to keep your password confidential and will be responsible for all use of your account and password. We reserve the right to remove, reclaim, or change a username you select if we determine, in our sole discretion, that such username is inappropriate, obscene, or otherwise objectionable.
5. PURCHASES AND PAYMENT
We accept the following forms of payment:
- Visa
- Mastercard
- American Express
- Discover
- Apple Pay
- Google Pay
You agree to provide current, complete, and accurate purchase and account information for all purchases made via the Services. You further agree to promptly update account and payment information, including email address, payment method, and payment card expiration date, so that we can complete your transactions and contact you as needed. Sales tax will be added to the price of purchases as deemed required by us. We may change prices at any time. All payments shall be in US dollars.
You agree to pay all charges at the prices then in effect for your purchases and any applicable shipping fees, and you authorize us to charge your chosen payment provider for any such amounts upon placing your order. If your order is subject to recurring charges, then you consent to our charging your payment method on a recurring basis without requiring your prior approval for each recurring charge, until such time as you cancel the applicable order. We reserve the right to correct any errors or mistakes in pricing, even if we have already requested or received payment.
We reserve the right to refuse any order placed through the Services. We may, in our sole discretion, limit or cancel quantities purchased per person, per household, or per order. These restrictions may include orders placed by or under the same customer account, the same payment method, and/or orders that use the same billing or shipping address. We reserve the right to limit or prohibit orders that, in our sole judgment, appear to be placed by dealers, resellers, or distributors.
6. FREE TRIAL
We offer a 1-day free trial to new users who register with the Services. The account will not be charged and the subscription will be suspended until upgraded to a paid version at the end of the free trial.
7. CANCELLATION
All purchases are non-refundable. You can cancel your subscription at any time by logging into your account. Your cancellation will take effect at the end of the current paid term.
If you are unsatisfied with our Services, please email us at contact@joinfurfriends.com.
8. SOFTWARE
We may include software for use in connection with our Services. If such software is accompanied by an end user license agreement ("EULA"), the terms of the EULA will govern your use of the software. If such software is not accompanied by a EULA, then we grant to you a non-exclusive, revocable, personal, and non-transferable license to use such software solely in connection with our services and in accordance with these Legal Terms. Any software and any related documentation is provided "AS IS" without warranty of any kind, either express or implied, including, without limitation, the implied warranties of merchantability, fitness for a particular purpose, or non-infringement. You accept any and all risk arising out of use or performance of any software. You may not reproduce or redistribute any software except in accordance with the EULA or these Legal Terms.
9. PROHIBITED ACTIVITIES
You may not access or use the Services for any purpose other than that for which we make the Services available. The Services may not be used in connection with any commercial endeavors except those that are specifically endorsed or approved by us.
As a user of the Services, you agree not to:
Systematically retrieve data or other content from the Services to create or compile, directly or indirectly, a collection, compilation, database, or directory without written permission from us.
Trick, defraud, or mislead us and other users, especially in any attempt to learn sensitive account information such as user passwords.
Circumvent, disable, or otherwise interfere with security-related features of the Services, including features that prevent or restrict the use or copying of any Content or enforce limitations on the use of the Services and/or the Content contained therein.
Disparage, tarnish, or otherwise harm, in our opinion, us and/or the Services.
Use any information obtained from the Services in order to harass, abuse, or harm another person.
Make improper use of our support services or submit false reports of abuse or misconduct.
Use the Services in a manner inconsistent with any applicable laws or regulations.
Engage in unauthorized framing of or linking to the Services.
Upload or transmit (or attempt to upload or to transmit) viruses, Trojan horses, or other material, including excessive use of capital letters and spamming (continuous posting of repetitive text), that interferes with any party's uninterrupted use and
enjoyment of the Services or modifies, impairs, disrupts, alters, or interferes with the use, features, functions, operation, or maint
StylesheetGuide
Welcome! This Page is for styling & custom code. Use it to customize your colors, fonts, badges, links, and buttons. Below, you'll find the embedded CSS & JavaScript code for the custom elements of the site such as Animations and Responsive Nav Bar. Any changes to these embed elements could modify the functionality of your site. Need to customize some features? Please contact me directly by email and I'll be happy to help :) Enjoy!
Colors
Buttons
Type Scale
Code